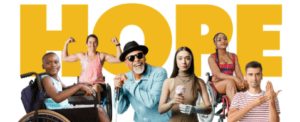 Accessible by Design and AdaptAbilities have teamed up! For 365 days, we will give hope to one person every day in the disability community. Hope means Help, One, Person, Every day!
Through awareness, education, and creating opportunities for inclusion, we will bridge gaps for those with disabilities.
Who is eligible to receive help?
Persons who have received an official documented diagnosis inclusive of physical, mental, and/or invisible disabilities.
The HOPE campaign is looking for items, gift cards, monetary donations, and/or services that we can give to someone in the disABILITY community! Our HOPE is to help one person each day with the goal of building a home by the end of 2023.
The HOPE campaign is asking for nominations for persons with disabilities.
HOPE recipients must be residents of Edmonton and surrounding areas. All ages welcome, however, a guardian of 18+ must be present and approve the reward. Your nomination does not guarantee an award, nor can we guarantee that we can provide your nominee with the requested reward.
Want to nominate or donate? Click  here!
Next Pick Up
WHERE/WHEN: TBA