At AdaptAbilities, we are committed to building capacity, understanding and opportunity for individuals with special needs.
Our programs provide opportunities for individuals with disabilities to learn, succeed and grow all year round!
Our goal-oriented year-round respite programs are thoughtfully organized by our Relief Care and Community Specialists to provide participants with an inclusive space to learn and grow.
We work with individuals with visible and invisible disabilities that may include:
Autism Spectrum Disorder (ASD)
Down Syndrome
Fetal Alcohol Spectrum Disorder (FASD)
Learning Disabilities
Anxiety Disorder
Obsessive Compulsive Disorder (OCD)
Cerebral Palsy
Tourette's Syndrome
Attention Deficit Hyperactivity Disorder (ADHD)
Other special needs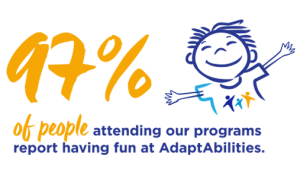 Year-round programs are
designed to teach participants:
Essential life skills
Expressive arts and recreations; and,
Motor development
These programs include: