Empowering families and individuals to grow, succeed, and belong – it starts here! And every dollar counts!
Your donation to AdaptAbilities empowers families, helping them overcome the challenges they face. Parents and guardians that have a special needs child (whatever the child's age) may have insufficient time to spend with the rest of the family, one may need to quit their job, or they may experience severe stress. Empowering families means providing respite care for parents and guardians. Respite care is an essential service that gives families the chance to take a break, focus on other priorities, practice self-care or spend time with loved ones. Their children participate in purposeful programming – in expressive arts, essential life skills, motor development, and recreation. It's all about inclusion. We bring individuals together and support them in becoming valued members of our community.
$5 sends a participant swimming for the day
$25 helps purchase specialized sensory equipment for our centres
$100 provides a monthly transit pass for an adult participant
$150 provides transportation for exciting field trips for Hearts in Action campers to Explore Edmonton
Make a difference by donating today!
Registered Charity Name: Alberta AdaptAbilities Association
Charitable Registration Number: 848903944RR0001
If you prefer to make your donation by Debit from your Bank Account, please print this document

complete, sign, scan and email to Giving@AdaptAbilities.ca or mail to: AdaptAbilities, 10130 – 82 Ave NW, Edmonton, AB T6E 1Z4
Please consider making a gift to AdaptAbilities in your will and financial plan. For more information: Giving@AdaptAbilities.ca or 780-431-8446, ext. 3031
CURRENT SPONSORSHIP OPPORTUNITIES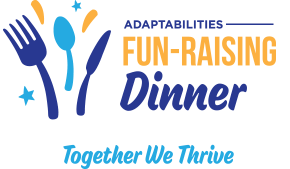 2020 FunRaising Dinner Sponsorship Package
Help us send more kids to camp this summer! Come and relive the summer camp experience of your youth, while supporting individuals with special needs!