October 23, 2020
A delightful smile- Meet Taya!
Taya is a delightful 13-year-old who's been an AdaptAbilities' participant since 2011. She has an infectious smile, a great sense of humour, loves to hang out with her friends at AdaptAbilities' McKernan Centre, and loves to play Pokemon Go! One day, she's planning to move out with her best friend and open a store that sells her art. I wish you could meet her! Taya, who faces challenges such as speech delays and difficulties with fine motor skills, has enjoyed several AdaptAbilities' programs – Hearts in Action Camps, Weekend Respite, and Social Nights.
Taya's sister, Maeve enjoys AdaptAbilities so much that Maeve often joins her in our programs!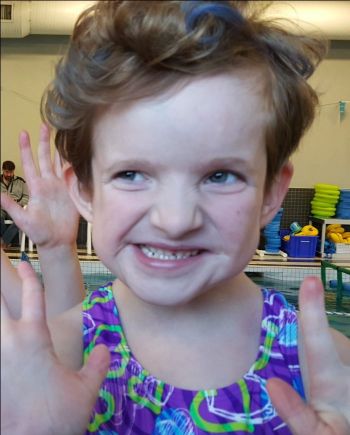 The AdaptAbilities Difference
Our role goes way beyond making sure participants have fun, although that's important, too! As any parent of a child with special needs will tell you, providing loving care is exhausting. It is vital for parents to take breaks while their child is supported in a safe and stimulating atmosphere – so they can finish their work day, get stuff done around the house or simply relax!
Taya loves AdaptAbilities, it feels like her second home with all the friends she has made. She can't wait to see them every week.
AdaptAbilities exists to empower families and individuals with special needs to grow, succeed, and belong. That's what we're doing every day.