January 21, 2022
Adley's Experience at AdaptAbilities
At AdaptAbilities, we are continually expanding our program offerings for our families.
This past summer we introduced our new Play with Purpose Half-Day camps! Adley was one of our sweet campers who attended a week of Play with Purpose.
Adley is a loving, confident six-year-old with an infectious smile. She loves engaging in physical activities, including swinging, jumping on the trampoline, and playing on the climbing wall. She is very active and does not enjoy sitting around! When she is not on the move, Adley can usually be found playing with her books, captivated by the sensory stimulation of flipping the pages.
Adley lives with Autism Spectrum Disorder and Down syndrome. Despite her diagnosis, she exudes a natural joy that is shared with those around her through her adorable laugh and amazing hugs. Though she is a very strong-willed individual, Adley faces challenges with her verbal communication – expressing her needs and wants. Personal independence activities can also be a challenge for Adley. She is still learning to understand her personal washroom routine and struggles with the fine motor aspects of dressing. With the support of her Community Specialist and the use of multiple strategies, her mom has seen notable progress in Adley's toileting skills.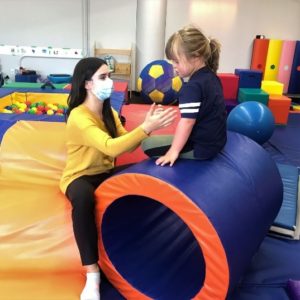 Adley joined AdaptAbilities in 2020 as part of our Occupational Therapy program initiative where she participated in one-to-one OT-focused sessions. 2021 was her first time attending a summer camp program. She was able to run, jump, and play while learning valuable physical literacy skills in our engaging Sensory Gym at the Orange Hub.
One of her favourite activities was playing in the ball pit! On top of that, Adley was exposed to opportunities to develop her social skills with her peers! During the week, her mom spent some valuable one-to-one time with Adley's siblings with the confidence that she was well supported during camp hours.
Adley's mom, Amanda, appreciates AdaptAbilities' ability to find great staff to work with Adley and the cooperation among Adley's entire support team. As a result, she can spend more time with her other children while Adley attends programs.
We are excited to celebrate Adley's developmental milestones!