December 5, 2022
Introducing Zac!
Zac's a remarkable young man who loves spending time with his friends, family and pets. He also enjoys bowling and watching movies, sports and game shows.
Zac started at AdaptAbilities as an avid participant in Social Nights programming for several years as a teen. Once he graduated from high school in the spring of 2021, Zac's parents sought out a program he could attend during the day while his family is working. This led to the discovery of the Community Connect program at McKernan Centre, which his family mentions "truly fits the bill." Every morning, he is excited to catch his DATS ride, never wanting to miss the latest adventure the group gets up to!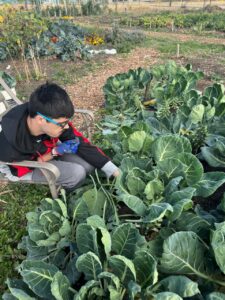 Since joining Community Connect, Zac has acquired many new skills. He helps make tea for staff and participants and has tried his hand at both sewing and knitting, recently knitting a winter hat in preparation for the cold weather.
Zac also has quite the green thumb, as he participated in the cultivation of the University of Alberta Garden. Zac has continued his landscaping efforts, obtaining his first job doing lawn care at McKernan Community League, where he proudly earned his first pay cheque!
Over time, Zac continues to improve his independence and gain further personal responsibility. It has been a joy for both Zac and his family, and they look forward to the future to see what new skills he acquires next.
AdaptAbilities is thrilled to witness Zac's achievements and growth. Amazing work!